These temporary and permanent pieces are often components of larger shows. Topically different, their common ground is an absurdly laborious process, an embrace of drawing as a flexible record and a curiosity about images and maps physically expanding the spaces they rest in and on.
---
---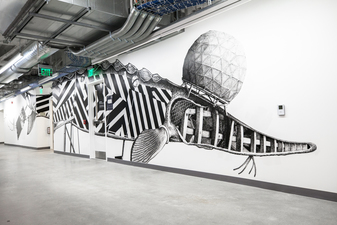 CAMBRIDGE Sturgeon
Site specific install in Camrbidge MA All images copyright @wiseknave and Facebook Inc.
---
---
---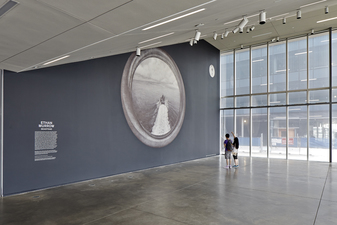 ICA Boston
"Whether united by a rebellious break away, a forced exile, or a utopian endeavor, the marriage of the carrier and the cathedral marks a dramatic moment of immense and irreversible change." - Ruth Erickson Assisstant Curator ICA Boston Commissioned by the ICA Boston, on view through the fall of 2016
---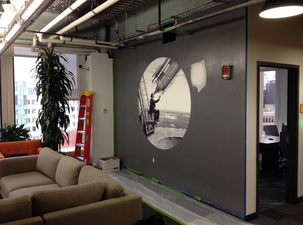 FB Boston
This piece, a permanent installation, was executed in Sharpie pen and deals with the history of innovation in the Kendall Square area and the shaping of Charles River waterline. Facebook Boston commissioned this work as part of their Artist in Residence Program.
---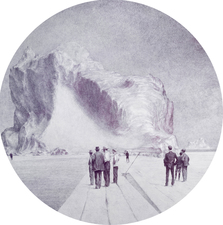 NYC - Ice
"State Flag" opened at Winston Wachter in New York City in April, 2014. The drawings in the show, including this wall drawing took a cynical view of statehood and the symbols of regional identity. For more info and images from this show please see "Recent - NYC"
---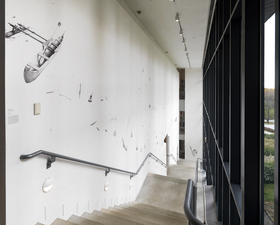 DeCORDOVA BIENNIAL
Flotilla - part of the 2013 DeCordova Biennial in Lincoln, MA. This three story ballpoint pen wall drawing charted the messy history of the United States through the lens of watercraft. The map used four organizing factors 1) Hawaii and the west 2) Vikings and the east 3) Slavery and commerce and 4) Darwin and idiocy. It was an intentionally incomplete, cynical and aquatic view of the lust for power and supremacy, the needs and dangers of big commerce and industry and the constant battle between migration and ownership in America.
---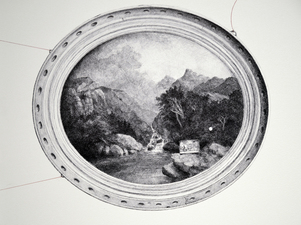 CLAY CENTER
Three wall drawings in ballpoint pen at the Clay Center started in August 2013 and then were revisited in late October of the same year. Each of these focused on crumbling structures in the landscape and an attempt to bridge space.
---

NYC - Listening
September 2011 wall drawing at Winston Wachter NYC